All Philip Folsom's unique experiential workshops programs and products are paired with proprietary theory and curriculum to assist in knowledge retention and the transfer process. It HAS to create change.
All programs are personally administered by master facilitator Philip Folsom.
These programs can all operate as stand alone team development experiences however sustainable high performance growth is a long term commitment and we recommend that organizations reach out for a free consultation on how to leverage these experiences into real transformative change. You and your people are worth it!
Transform your Team Into a Tribe
At the center of Philips coaching and culture development work is his Tribe program, bringing the enormous benefits of the world's ancient tribe systems to modern day corporate teams such as Sony, Microsoft, Dreamworks, Apple and RedBull. The Tribe Program is the ultimate solution to stress management, collaboration, employee retention and engagement as well as conflict resolution and creating cultures of accountability. For sustainable health and high performance in our organizations we must transform our teams into tribes!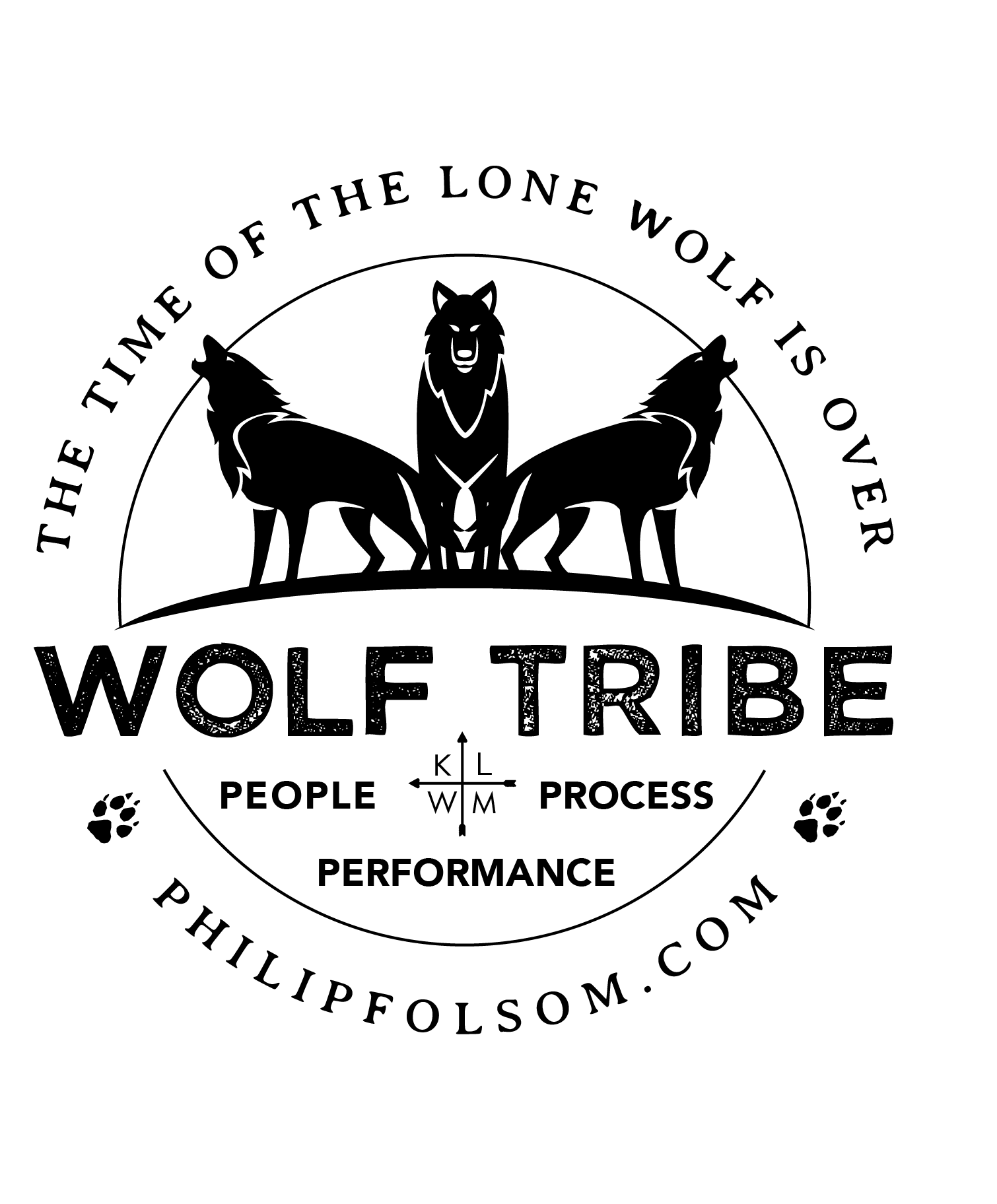 The Time of the Lone Wolf is Over
Team members have an opportunity to learn valuable lessons from nature's original team animal, the wolf. Safe physical engagement with real wolves enables participants to discover transferrable leadership lessons from pack behavior. These lessons of the pack include: conflict resolution, group dynamics, effective communication, and common vision.
The Wisdom of the Pack is an extension of Philip Folsom's critically acclaimed Tribe workshop. It can be conducted at any of our retreat locations or onsite based on location. In addition, many clients choose to pair this program with a Philip Folsom Los Angeles ropes course or other leadership or team development program. This an experience that participants will never forget.
Everything You Want is on the Other Side of Fear
High Ropes Challenge Course events are the most high-impact individual and team experiences organizations can have. Ropes courses afford team members the chance to safely engage with challenge, risk, and over-come fear with increased trust, communication and accountability. High Ropes course events are controlled and physically safe proving grounds for putting into practice all the skills the team has previously gathered throughout the Tribe program.
Philip Folsom's 25 years of experience in the leadership development industry, he has served over 500,000 individuals with safe and transformational learning experiences. This is legitimate leadership development and team building. Los Angeles ropes courses are his specialty!
Mastery of the mind leads to mastery of our behavior and this is key to success of all sorts. For centuries Zen monks have used archery as a means of accessing mastery of breath, goal setting, and balance between task and process. These skills are transferable to individual growth and performance in the workplace. A fun, rejuvenating and powerful workshop for healthy, effective and productive people and organizational teams.
The Zen Archery Tribe program is an incredibly engaging and thought provoking workshop for small groups that are focusing on mindfulness and mastery. Zen Archery can be paired with other Tribe development programs such as Los Angeles ropes courses and functions particularly well with teams at further along with their culture development
Our Career Success Will Always Parallel our Personal Development
Being a professional in only our career is not enough to qualify as holistic success. In fact, the word 'professional' comes from the word 'profess' which is a sacred statement of possessing a level of high level of skill at something. It's time to earn the right to profess our life skills of health, community, spirituality, service, celebration and adventure! leaving some measure of performance on the table.
Wellness is one of the most impactful aspects of culture development. Across all industries, investing in a wellness program has proven to have a tremendous ROI by reducing organizational health care costs and significantly reduced loss-of-work numbers based on stress and illness. In addition, Philip's Fight in the Shade Program leads to increased performance by reducing stress which leads to increased Flow states and well-being in the workplace.
The Final Stone is Philip Folsom's critically acclaimed values clarification program. The Final Stone explores the powerful of values in the function of choice in both a personal and organizational capacity. If we don't fully know and understand this dynamic we can never fully get in charge of our decision making.
The Final Stone is a unique combination of engaging experiential activity paired with powerful debriefs that lead participants to a discovery and practice of values-based performance. This is a fundamental component to leadership development and team building.
The Final Stone can be paired with any Philip Folsom Tribe program such as Los Angeles high ropes challenge course (ropes course), Zen Archery or Wolf Wisdom and can be modified to fit any environment, time frame or physical limitation.
Passion, Purpose, Meaning
The big drivers of success including retention and innovation pale when compared to VISION. This is the ultimate WHY that drives people into greatness. Leaders and teams that have a grasp on their vision are navigating off of a North star that guides them through challenge, change, adversity and into a life of meaning and abundance. This journey is not easy but it is worth it.
Choice is a Function of Awareness
Philip Folsom's Archetype program is a highly interactive and transformational group development activity that focuses on individual behavior patterns and the way those individuals interact to make a high performing Tribe function. Although Philip is certified in other psychometrics such as Disk and Behavioral Styles, his Archetype program is based on the foundation of the foundation of applied psychology: Carl Jung and Mythology.
In addition, Archetypes is highly interactive and designed to be integrated into any of Philip's other Tribe workshops such as Los Angeles ropes courses with tremendous results. The Archetypes workshop pays off with increased individual engagement, leadership versatility, enhanced communication skills and "noticeably increased empathy of team members to each other"-Fox Pictures